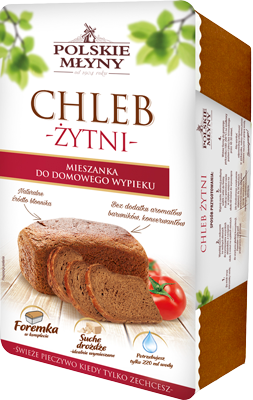 Rye bread
The mixture for baking rye bread
Instructions:
Add the mixture and water in the dish.

Blend all products at low speed until all ingredients are mixed, then blend it for about 5 minutes at high speed until smooth mixture is obtained. Leave the mixture under cover for 20 minutes.

Remove the mixture, form elongated roller and place it in the mold of 25 x 11 x 7 cm smeared with fat. Leave the mixture under cover in a heat place for about 60 minutes until it has risen (it has increased twofold in volume). After 30 minutes you can softly cut the top of the mixture, which help you to avoid uncontrollable break on it.

Place the mold in a heated oven (180-200°C) on the middle level and bake it for 50 minutes. To obtain the suitable humidity in the oven you have to place the dish with hot water at the same time.
Przepisy